Grapefruit is a hybrid shaddock and orange. This wonderful fruit grows in Mediterranean countries, Japan, China, South America and the Caucasus. The first mention of grapefruit refers to the 18th century, when British sailors came upon the strange trees with hanging fruits like grapes in Barbados. Citrus paradisi ("Citrus paradise") is the Latin name of grapefruit.
Grapefruit has the great chemical composition. This fruit contains 88,5-90,9% water, 3,8-6,78% sugar, 1,42-2,38% acid, essential oil, pectin, mineral salt, vitamin C (up to 45 mg), B1, D, and glycoside naringin. In the peel, which is up to 30-40% of the whole fruit's weight, there are 9,19-19,04% pectic substances, essential oil and glycosides.
Grapefruit contains a special ingredient – naringin, which gives a bitter taste to the fruit and simultaneously quickens the process of digestion. Grapefruit stimulates the metabolism, and this leads to loss of unnecessary pounds.
The grapefruit diet will help you to lose extra 3-4 pounds. This diet lasts 7 days. In addition, it is one of the few diets, which can be kept in winter, because of the great amount of vitamins.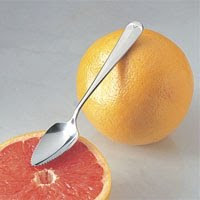 Eat two grapefruits per a day or drink two glasses of grapefruit juice. Refuse fat sorts of meat and fish, spices (except paprika). Reduce the amount of salt in the food. Drink Green Tea without sugar. The last meal should be before 6-7 hours in the evening.
Keep in mind! People suffering from gastritis and peptic ulcer should refuse the grapefruit diet in order to avoid exacerbation of diseases